If you would like to submit a recommendation for a craftsman or project to be considered for either the on-line museum or the physical museum in Carlsbad, please download and fill out the submission form or simply send us an email to mecm@craftsmanshipmuseum.com with information about your recommendation.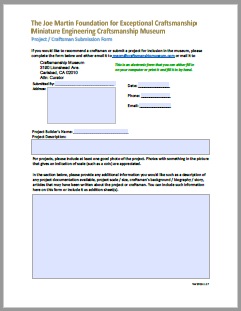 Click the image to download the submission form PDF
Copyright 2019, The Joe Martin Foundation for Exceptional Craftsmanship. All rights reserved.
No part of this web site, including the text, photos or illustrations, may be reproduced or
transmitted in any other form or by any means (electronic, photocopying, recording or otherwise)
for commercial use without the prior written permission of The Joe Martin Foundation.
Reproduction or reuse for educational and non-commercial purposes is permitted.